December 17, 2019
Government as a Platform in Action
This piece was written by J-P Fournier, FreshWorks' Director of Digital Government. J-P helps governments and public sector organizations use digital tools and ways of working to deliver modern and easy-to-use products and services that meet citizens' expectations. He formerly developed BC's first Digital Strategy as Director of Digital Strategy in BC's Ministry of Citizens' Services and was one of the BC Government's first product managers.
---
How a Platform Government Approach Helped Create One of Canada's Fastest-Growing Companies
Three years ago FreshWorks Studio launched one of its first digital products, BC Highways. Since its launch, BC Highways has informed hundreds of thousands of travellers about what's happening on BC highways, including construction, accidents, rock slides, avalanches and more. For FreshWorks, BC Highways was an impactful project that helped us prove our skills and grow our public sector business. But BC Highways would not have been possible without the public servants who had the foresight to make road event data available in real time using an open API – a great example of a concept known as Government as a Platform in action.
What is Government as a Platform?
Tim O'Reilly popularized the term Government as a Platform in a 2011 article describing how governments can use open standards, APIs and open data to become an open platform upon which people inside or outside of government can create innovative new services.
A good, non-technical example of a government platform put forward by O'Reilly is our road system. Governments build road networks and set the rules of the road, but don't operate the ports, gas stations, farms and factories that use the network to create social and economic multiplier effects.
Since that article, new definitions of government as a platform have emerged from around the world. Richard Pope, a senior fellow at digitalHKS, recently proposed a working definition of government as platform that summarizes the concept best:
Reorganizing the work of government around a network of shared APIs and components, open-standards and canonical datasets, so that civil servants, businesses and others can deliver radically better services to the public, more safely, efficiently and accountability.

– Richard Pope
Highway 5 south of Kamloops is also known as the Coquihalla Highway.
The BC Highways Opportunity
BC Highways is a great example of Pope's definition of Government as a Platform in action. A few years ago, the BC Ministry of Transportation launched DriveBC, a traveller information system for users of BC's highways. Rather than only launching an app, forward-thinking public servants in BC decided to release an accompanying DriveBC API which provides anyone with real-time access to authoritative data about road events like construction and weather delays using a globally-recognized open standard called Open511.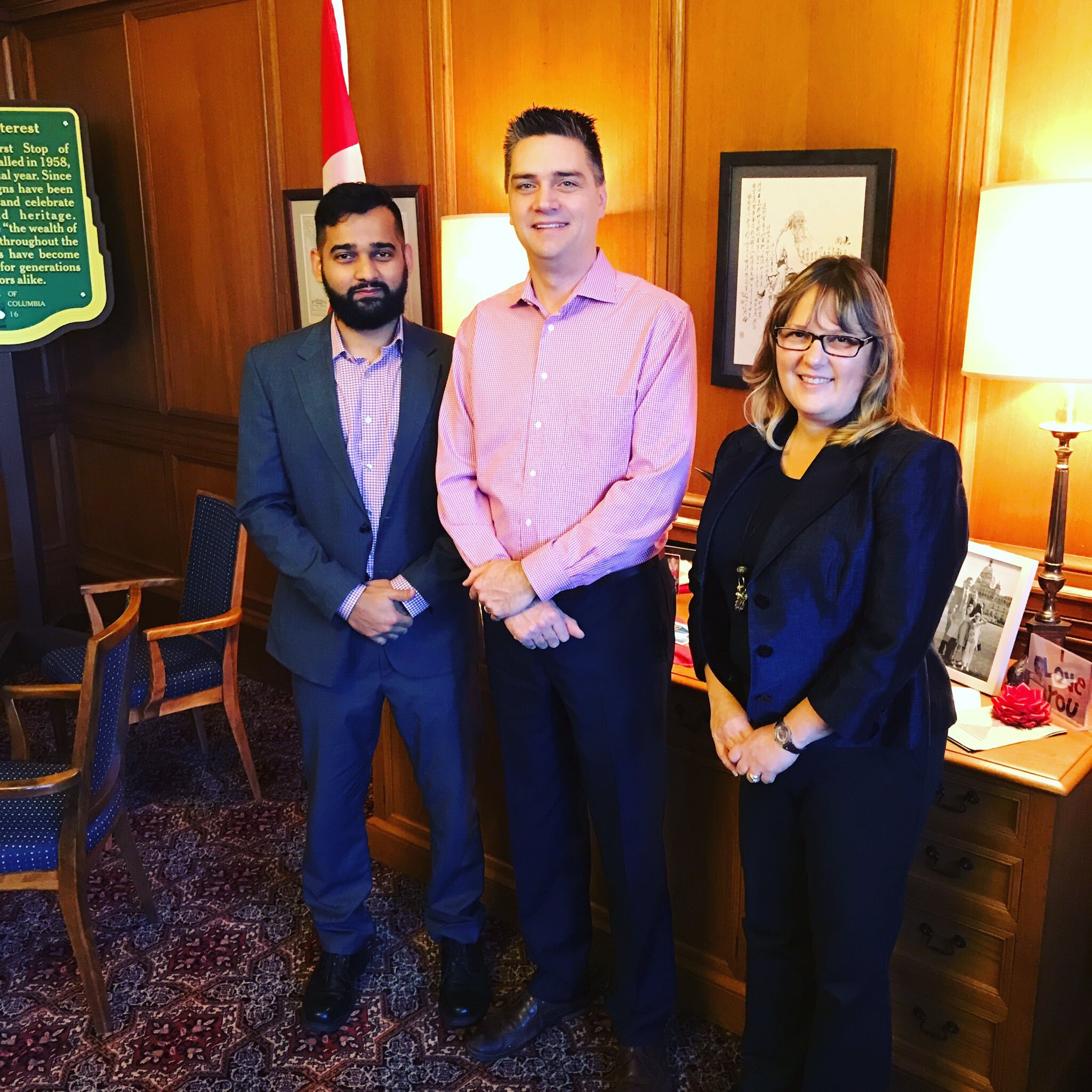 Meeting Hon. Todd Stone, Minister of Transportation and Infrastructure
Our team at FreshWorks learned about the DriveBC API in 2016, and saw an opportunity to build a better digital service not for a client, but for ourselves and for British Columbians.
We started by talking to our target users – in this case drivers and truckers – to understand their needs. Next, we rapidly prototyped ideas until we landed on an idea we felt would help BC drivers. After testing the prototype with users, we worked iteratively to build and launch BC Highways in less than two months, earning media attention and a meeting with the Minister of Transportation. Now, three years after we launched the service, BC Highways has over 150,000 downloads on Android and IOS and has excellent reviews from users.
The Unexpected Benefits of Government Platforms
O'Reilly's early definition of Government as a Platform suggests that third parties can be incentivized to build services on top of government platforms. In our case, we thought at first that there might be some way to monetize BC Highways either as a follow-on paid contract to further develop the service or by charging for it in the app store. But it didn't take long for us to realize that neither of these options were feasible. The BC Government made it clear to us that while they were thrilled about our work, they had no intention of paying us to further develop BC Highways. We also felt strongly that we should not charge British Columbians for BC Highways. In short, we never generated any direct revenue from BC Highways.
But defining success only in terms revenue would have been a mistake. Building BC Highways was pivotal for FreshWorks in many indirect ways. Building the service helped us demonstrate our skills, earn media attention and meet potential new customers. This ultimately helped us scale from a team of less than 5 to 70 in three years, becoming one of Canada's fastest growing companies. This also provided macro benefits to British Columbia; the DriveBC API improved an important public service for British Columbians while helping grow FreshWorks into an important local employer.
What's Next?
Platform plays like this one will become increasingly important as a way for governments around the world to meet citizens' modern expectations. As we demonstrated with BC Highways, governments don't corner the market on the delivery of public value. Platforms will be foundational for helping governments engage new partners and create entire ecosystems that can help provide amazing digital services for people.
If you're a public servant, I encourage you to push for platform-first approaches. If you're wondering what's possible, read about how Argentina created and launched digital driving licenses in just 65 days using platforms, or about how the UK's National Health Service is using platforms to encourage third-party innovators to build amazing digital health services for patients.
If you're a technologist looking to create new public value, I encourage you to consider building services on top of government platforms. For some ideas about where to start if you're in BC, have a look at BC's Data Catalogue. For an idea of what's to come, see how BC is building platforms to share trusted information about businesses and organizations, or how the Ministry of Health is developing platforms that will empower citizens with access and control over their health data.
Recent Posts
Ready to develop your project beyond expectations?
Want to Build a Great Digital Product?