While driving through Alberta on the winding Banff-Windermere highway, FreshWorks CEO Samarth Mod and COO Rohit Boolchandani found themselves caught in an unexpected three hour traffic jam. They say the fun of adventure is in it's unpredictability, but as Rohit and Sam stared up at the rugged rockies carving the horizon, their detour became a moment of decisiveness. The next few months would become dedicated to a new FreshWorks passion project ~ the BC Highways mobile app.
Packed with a variety of real-time features including major highway events, weather reports, traffic cams, and more, the BC Highways app is the easiest way for you to explore your province safely and efficiently, leaving more time to simply soak up the beauty of our majestic coast.
In early December 2015, FreshWorks was sub-contracted by Sierra Systems to work on some UX aspects of the BCDeveloper Exchange, a government initiative to encourage the tech sector and public sector to join forces in the pursuit of innovation of revolutionary technology.
It was through this experience that FreshWorks was first exposed to the DriveBC open API, where we discovered a wide range of publicly accessible information regarding many prominent provincial highways. With this information, we were ready to begin work
on one of our earliest apps. The BC Highways app was not only unique in the sense of its origin, but also in its purpose: we wanted to build this app not for a client, but for ourselves, and the province we were hungry to establish ourselves in.
In just two short months FreshWorks produced a proof of concept that caught the attention of several local media outlets, as well as earned us a meet and greet with Honourable Minister Todd Stone. Since then the app has only grown, with new features and fresh new design styles to improve UI/UX and add flavour to your BC Highways experience.
As of August 2018, the app has over 75,000 downloads, and great reviews on both the App store and the Google Play store. Don't believe us - check it out for yourself!
The Work
Initially, the game plan for the BC Highways app was to demo a proof of concept and (hopefully) receive some funding from the government to complete the project. After some consideration however, we decided it would be better to develop the entire suite of apps for free and at our own pace (in just under two months) to get it out there and in the hands of fellow British Columbians as quickly as we could, without compromising on quality.
FreshWorks spent time interacting with the app's target audience (truckers, drivers, BC MTICS and the BC MOTI team) in order to unearth the plethora of features that would provide value add for our users. After its release in September 2016, we saw a serious increase in downloads and usage after a fantastic press release from BC Gov News. Since we were the first tech company to develop and launch an app using the open data available through the Dev Exchange initiative, we faced a flurry of media coverage including articles by the Daily Hive, BC Gov News, Cantech letter, and Nelson Daily.
MAJOR HIGHWAY EVENTS
When it came to making this feature our goal was simple: how can we make the BC driving experience as seamless, safe, and efficient as possible? With the Events tab of the BC Highways mobile app, users have access to a feed of real-time provincial highway related events relevant to their current location including road closures, planned work, extreme weather conditions, and more.
From this screen, users can apply filters to their feed including a filter to display major events only, a maximum radius filter, and a BC District filter, all of which are useful for planning epic roadtrips, or your next big BC adventure.
By clicking on an event, users can read more detail regarding the event, as well as view the location of the event on google maps. With the events feature, users can spend less time sitting in traffic wondering if a snowstorm might ruin a perfect vacay, and more time enjoying the beauty of the open road.
MAPS
If you're more of a visual person, then the Map feature is the place for you. Here users can view a variety of major provincial highways events indicated by different markers from a birds-eye view, distributed across a map of BC.
Icons are used in both the iOS and Android app to signify different types of events including construction, incidents, weather conditions, and traffic cameras. Magnifying glasses with numbers indicate a user's ability to zoom in closer and view collective events, the amount of which is specified by the number in the magnifying glass icon. Red magnifying glasses, indicate the presence of an incident.
Users can click on a specific icon and view the location of the event as well as a description regarding the status of the event or camera. An example of an incident might be: "Highway 51 – Closed in both directions from Telegraph Creek to Junction with Highway 37, in Dease Lake (111 km) because of wildfire. Assessment in progress".
Users can also navigate the map using native google maps controls, zooming in and out freely, as our icons adjust accordingly.
From the Traffic Cams feature, users can select from a variety of locations to access real-time traffic feeds at prominent BC Highway locations. Users can select cams from a variety of regions including the Northern Region, Southern Interior Region, Lower Mainland, and Vancouver Island. From within these regions, users can also select from a variety of Traffic Cams for the US/Canadian Border.
Upon selecting a camera, users can view the camera location on google maps, and can even add cameras to their favourites (My Traffic Cams) to access them more efficiently. Users can also use google street view, and get up close and personal with any of our Traffic Cams and their locations.
Users can combat unsuspected border delays with the Delays feature of the BC Highways app. Here users have access to a list of BC/US border delays for both commercial vehicles and regular travellers, at a variety of BC/US border crossing locations.
Upon clicking on a delay, users can view a border's traffic camera as well as the location of the border crossing on google maps. Users are able to access street view for these cameras as well, the same way they can from the Traffic Cams feature. They can also add cameras from this feature to their favourite cameras, under "My Traffic Cams".
If a user turns on notifications for the BC Highways app, they will receive real-time updates regarding incidents and events for provincial highways close to their location (just don't use it while driving! That's what co-pilots are for).
.
We use tools to track usage of the app anonymously. We keep track of all key parameters of app's performance like DAUs, MAUs, Crash status, Usage time and many more. This helps us refine the app without compromising any privacy.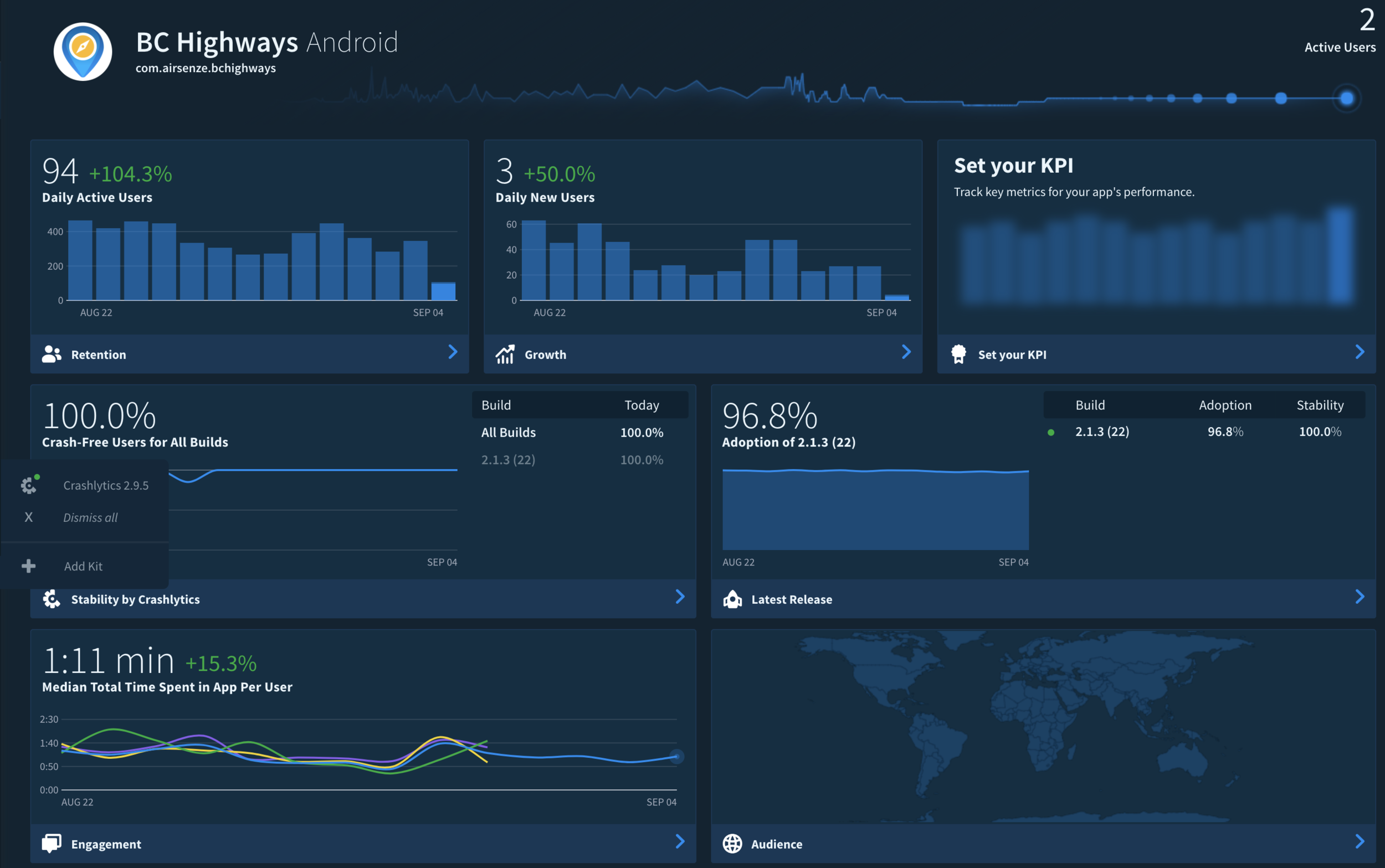 We use tools to track usage of the app anonymously. We keep track of all key parameters of app's performance like DAUs, MAUs, Crash status, Usage time and many more. This helps us refine the app without compromising any privacy.
WARNING: THE BC HIGHWAYS APP IS NOT MEANT TO BE USED WHILE DRIVING!
Pass the phone to a co-pilot, or open it at a nearby rest-stop... who doesn't like planning a trip with a nice cool ice cream or warm box of poutine in hand? We're trying to help you out here.