February 8, 2018
BCHighways - Developing This Native App via BC Dev Exchange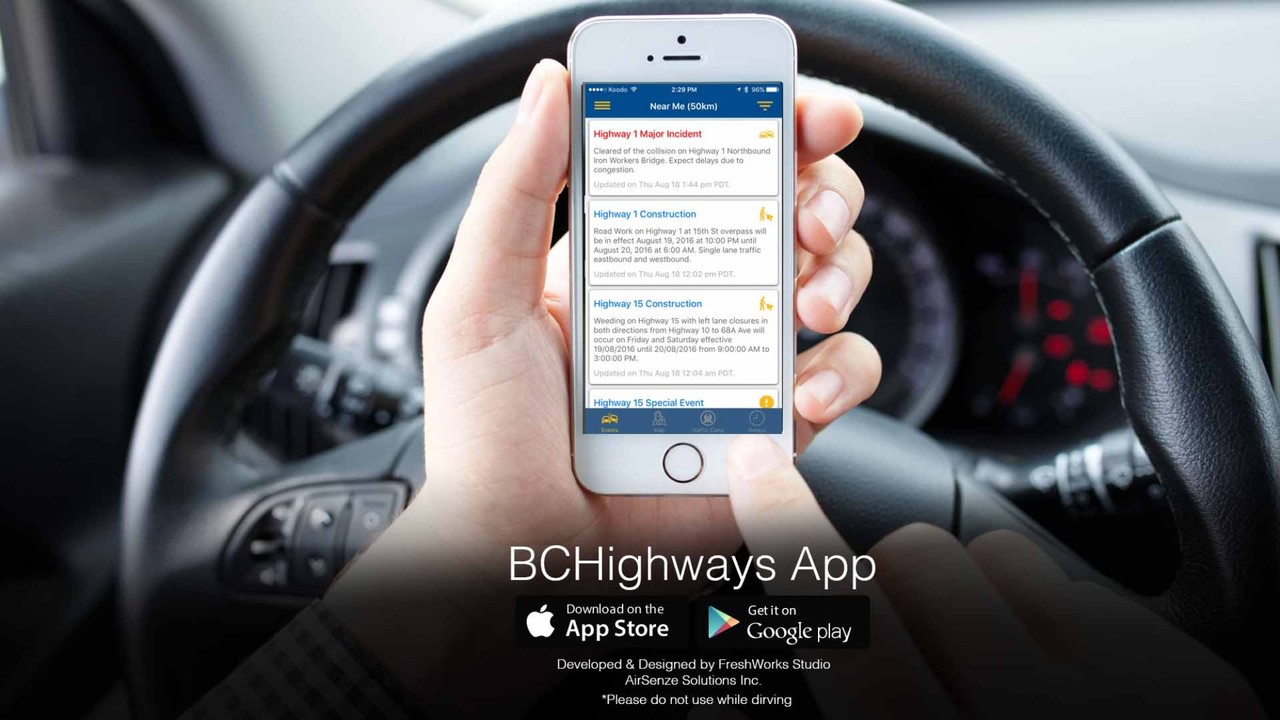 BCHighways provides real-time access to provincial highway information including road closures, planned work and extreme weather conditions. The free app also features estimated border crossing wait times, traffic camera images and integrates DriveBC's Twitter feed. BCHighways is not intended to be used while driving; anyone wanting to use it, or any other app on the go, must find a safe place to stop their vehicle first.
Coverage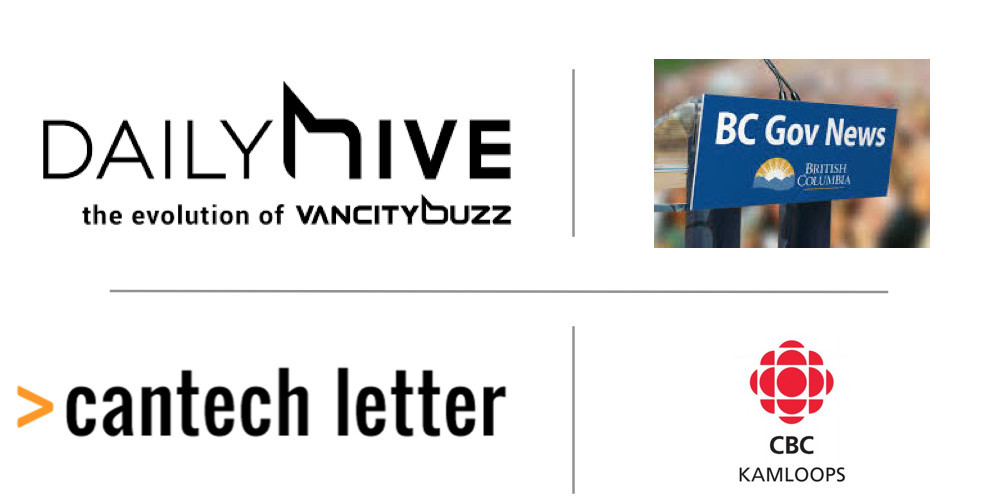 Since we were the first tech company to develop & launch an app using the open data on Dev Exchange, we got good press release and media coverage. Daily Hive, BC Gov News, Cantech letter, Nelson Daily.
I got a wonderful opportunity to meet the Hon'ble Minister of Transportation and Infrastructure Todd Stone. He gave me a chance to speak about BCHighways app, my startup and our journey so far. He offered some good advice and obviously I grabbed this opportunity to take a photo with him.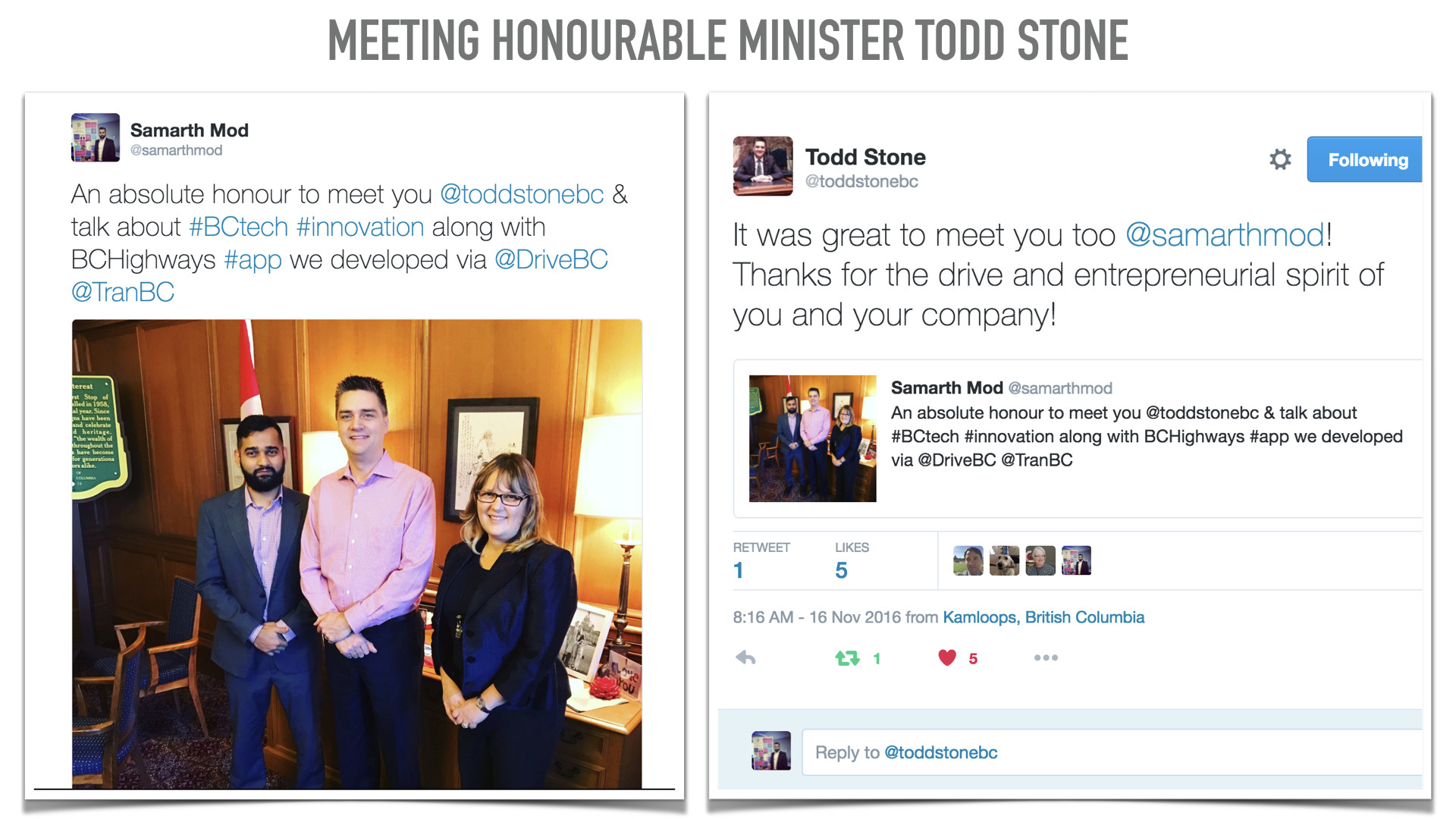 BCHighways – The native app
We developed this app using DriveBC's Open511 road event data, made available through the BC Developers' Exchange. The app is available on Apple iPhone, iPad, Watch, TV as well as on Android phones and tablets. We have made this app completely free on App Store and Play Store. There are no ads.
BCHighways app – How & Why
We were asked a number of times as to how did the idea came about and why did we spent our time, money, energy and resources on developing this app. As a startup, all of the things I mentioned are worth a lot since a startup typically has less time, limited resources and no money!
Background – We are Victoria based tech startup which was founded by my partner Rohit and myself in 2014. We are both immigrants who came to Canada in 2012-2013 to pursue our MBA from University of Victoria. While studying, we thought we could leverage our experience of developing complex mobile apps and our entrepreneurship-focussed MBA education to start a business.
Dot 1: The inception of the idea came about when we were stuck on highway enroute to Banff. We were using Google maps but for navigation purposes. We got stuck on the highway because of a construction event. It led to a detour and added 3 extra hours to our long journey to Banff.
Dot 2: We were starting our business from scratch with no track record in Canada and hence, we were looking at ways to demonstrate our skills and development approach. I reached out to Ian Bailey on LinkedIn in a hope to meet him for coffee. He graciously invited us to his office and gave us about an hour.
Dot 3: We were sub-contracted by Sierra Systems in December 2015 to work on some UX aspects of BCDeveloper Exchange. That was our first exposure to open data and importantly to open511 DriveBC standard. Through reference, we reached out to Debbie Fritz (CIO at BC MOTI) and got her attention to the work we were doing. We understood the DriveBC open api in detail and felt that the dots are connecting.
Connecting the dots
Initially, we thought we could demonstrate the app and get some funding from the government to finish the development. After careful analysis of the situation, we felt it is better if we could develop the entire suite of apps for free in record time (2 months). With the three dots connecting and our startup energy, we started full scale development of the BCHighways app. We added important features like Events, maps, highway web cams, border delays as they came up during our interaction with the target audience (truckers, drivers etc), BC MTICS and BC MOTI team.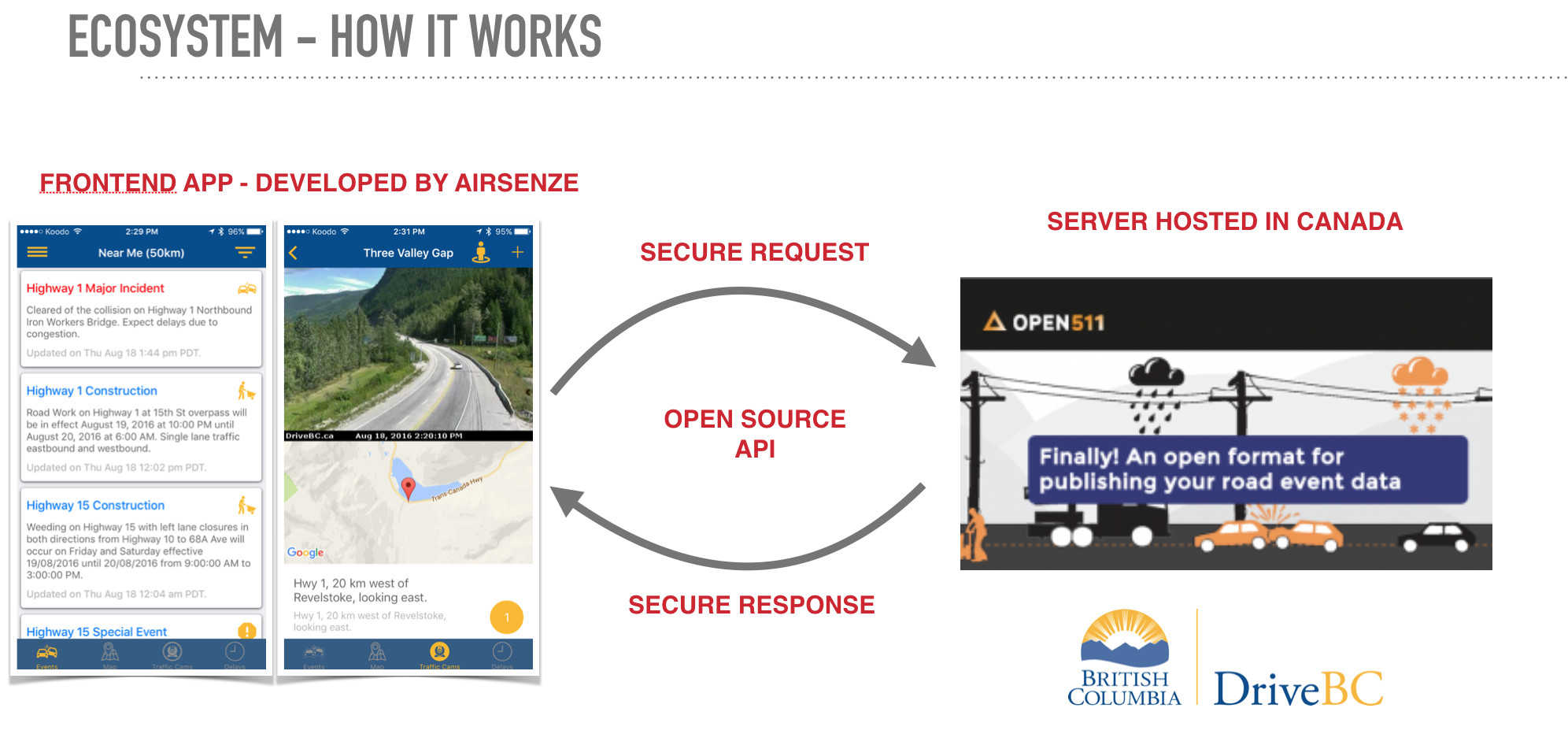 The app launch – September 2016
The app was soft launched on 15th September 2016 on App store and Play store. We added "DriveBC" as searchable tags to our app so that users can find the app easily on the app store. The soft launch gave us ample time to refine the app based on initial feedback and bug reports.
App analytics and statistics – February 2017
The app downloads started to pickup when we did some social media push in November. The stats and usage analytics are very promising with a large number of people using the app on a daily basis (DAU). The app is currently downloaded by 22,102 users and running with 100% crash free status. The downloads and usage picked up heavily after a press release via BC Gov News.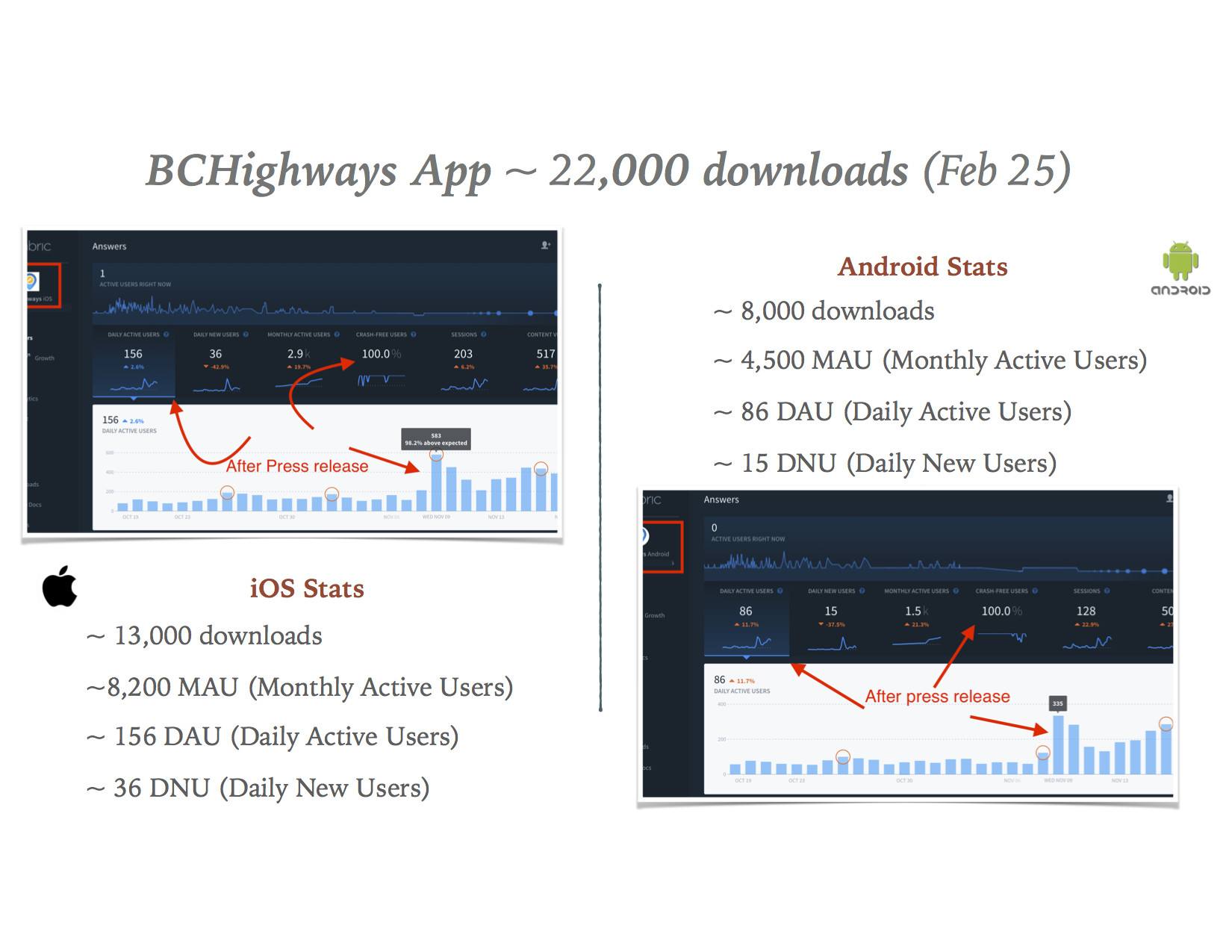 App Reviews
App reviews and ratings are typically a determinant of how people are feeling about an app both from usability as well as an experience perspective (UX). We have been getting some good unsolicited reviews on the App Store as well as on Play store.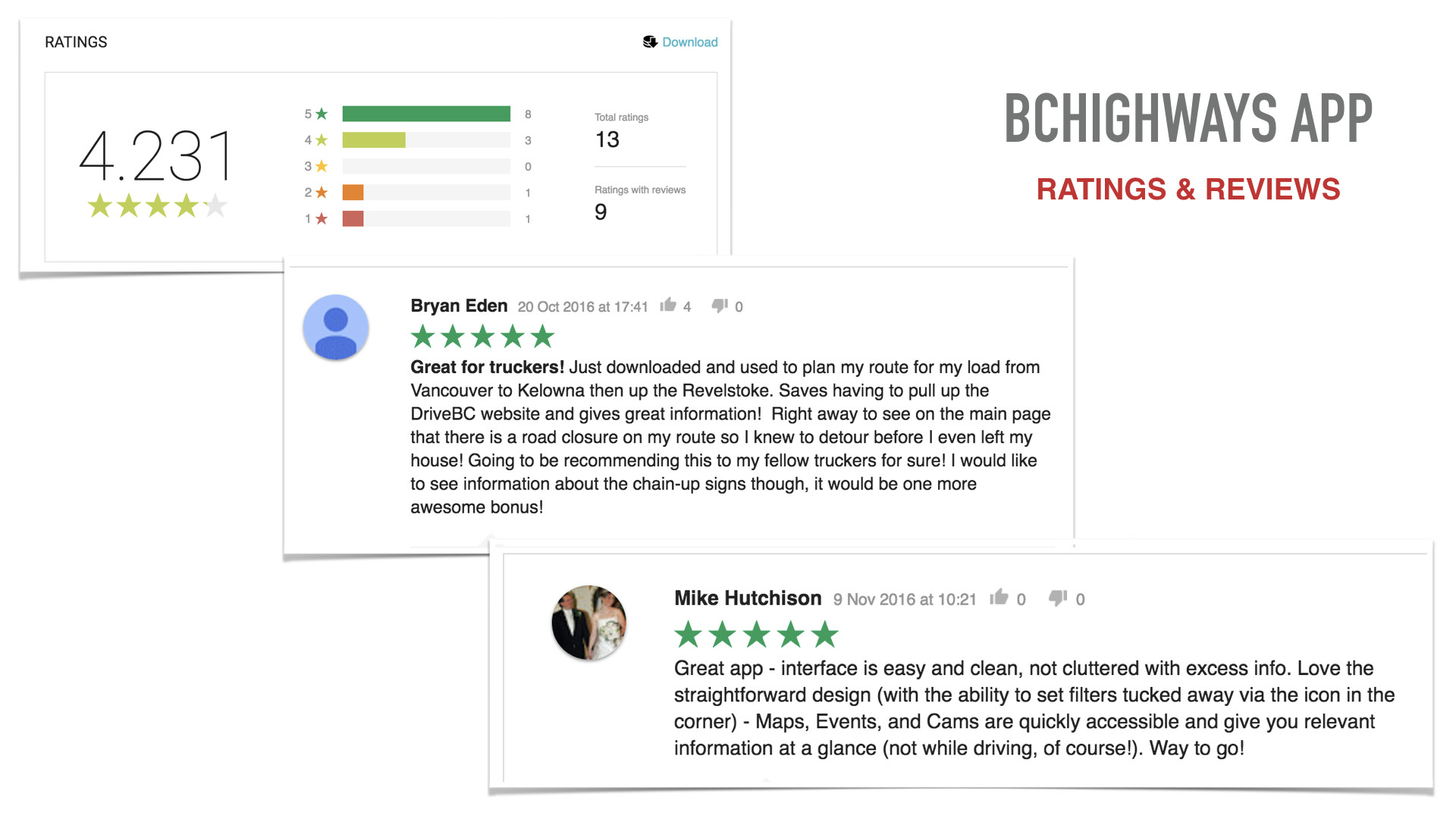 BCHighways – A success
I would say that we have been very successful so far in achieving the targets we had set for ourselves with the launch of this app. The three important success factors for us are:
The reviews and ratings suggests that truckers and drivers are finding this app easy to use and intuitive

We were able to demonstrate to the government and ministries that we have the necessary technical skill-set and drive to develop & design an app

With good media coverage and press releases, we were able to reach a bigger audience which is priceless for a technology startup.
We think it's super cool that B.C. Ministry of Transportation and Infrastructure has provided the open data to BC Developers' Exchange and giving companies like ours the data we need to develop easy to use apps that benefit the lives of millions of people. And as a startup, we also wanted to show our expertise to the government to gain trust and credibility. Hence, it results in a win-win situation for everyone.
iOS Download
https://itunes.apple.com/us/app/bchighways/id1139299863?ls=1&mt=8
Android Download
http://play.google.com/store/apps/details?id=com.airsenze.bchighways
Recent Posts
Ready to develop your project beyond expectations?
Want to Build a Great Digital Product?