April 25, 2017
Embracing Awards Season While Hard at Work (and Play)
Spring on the island brings many welcome sights after a long winter – the cherry blossoms lining our streets, the cheerful pinks and blues of a Dallas road sunset, and we are feeling renewed after a season of more tech industry awards. Our team is feeling certified Fresh™ this spring, and we're so honoured not only to be nominated, but to be recognized in a field of outstanding peers.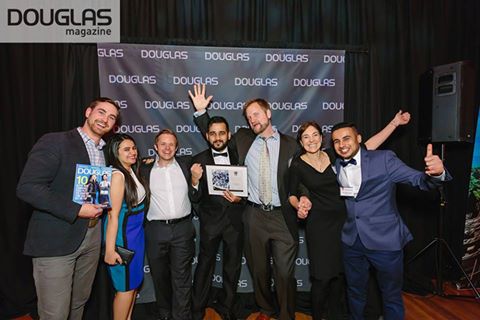 Douglas Magazine Recognizes Freshworks
This month we were humbled to be included in the Douglas Magazine's 10 Companies to Watch winners. As a young company full of young talent, we feel so lucky to be included amongst such an amazing list of companies around Victoria, and we want to extend our congratulations to the other nominees for 2017.
Our office has a super relaxed dress code of t-shirts and sneakers, so it was pretty fun to get suited up for the event. Sam and Rohit seem to be rocking a James Bond vibe this month; what do you think?
Receiving Love From the Chamber of Commerce
Douglas Magazine wasn't the only one to notice us though; we had to break out the formal wear again the following week to attend the Chamber of Commerce's Great Victoria Business Awards Gala, held at the beautiful Fairmont Empress. We're delighted to announce we won for Best New Business this year! The event was a blast and our entire team was so excited to wake up to the news. We celebrated over danishes in the AM and high fived each other. Although it's not all about the awards, it's always nice to see the team's hard work get recognized.
One of our founders, Sam, had also been a shortlisted for a handful of other awards – Top 20 Under 40 and the SBBC's Best Immigrant award. He didn't win them, alas, but we were pretty proud to see his name among so many other impressive candidates. He's also up for RBC's Top Immigrant award, along with 25 other finalists. Voting is still happening!
---
Two years ago when Sam and Rohit founded our company, they had no idea they'd one day be suiting up for awards season.
We have to hand it to our young, passionate team, which is our real secret to success. We're small, but mighty! The average age in our office is 25 – which says a lot about the power of youthful enthusiasm. Every single one of our team members was hand-picked for their energy, talent and most, of all, for their passion for creating cutting-edge technology. Looks like we bet on the right people!
FreshWorks believes that young people, have so much to offer and you won't find a more hard-working, dedicated or excited group of people in the whole city! We're also more of a family than a company, and with such a small, tight crew, we've built tight office bonds because creating cool tech for our clients.
We retain 100% of the development process in house, and with a small team that means everyone gets to work with everyone, on everything!
Here's how our work typically flows, and how our team integrates with each other:
Our Problem Solvers and Client Success Managers
An app ecosystem (frontend, backend, UI/UX) starts it's life after having an initial requirement gathering phase and contract. We engage with our recently hired Client Success Manager Hazen (who identifies business' goals, problems, and makes sure that journey is managed properly) regularly so clients get a kick out of working with us. Our Business Analyst Emma dives into solving problems and mapping an app's technical specification document. Then, our Project Managers Tristan and Bre take over to ensure a spotless delivery using project management tools like JIRA.
The Development Team
Our development team is hugely talented – they wake up every day hoping for a new challenge to tackle. We have small teams for each ecosystem we work with: iOS is made up of Michael, Spencer and Dawson, Android is handled by Aidan, Justin and Jeff. Jeff also doubles as one of our full stack web developers, with Ryan, Kyubin, Jaegar and Dawson. As you can imagine, there's a lot of iPhone vs Pixel debates all day long at the office!
QA
Rhys & Avery, our QA masters, swoops in at the end of a project to ensure every line of code is perfect – we don't ship anything we aren't proud of. Come to our office any weekend to see the passion and dedication these guys bring to the table – we are very proud of what we've helped build, but the real kudos for this (and every) month's success goes to them.
Getting to Play With Cutting Edge Tech
The Next Big Thing (NBT) for us is our brand new Hololens, which we definitely did not order to play games with (well, maybe a little). We've tasked our team with developing new apps for the next generation of devices, and they've stepped up the challenge. We can't wait to launch our first AR app this summer!
Well, that's a wrap for April. As we mentioned in an earlier post, we've been nominated for Startup of the Year with VIATEC. The awards show is in June, can't wait to see everyone there!
Recent Posts
Ready to develop your project beyond expectations?
Want to Build a Great Digital Product?