June 9, 2016
Native vs Mobile Web Apps
How do you decide between native applications or mobile web applications?
When trying to decide which would be more suitable for your project – native or web apps – the ultimate decision comes down to the set of features that your customers will use on their mobile devices. Each platform has its own advantages, but, to choose which is right, Warren Buffet would say, "delight your customer."
Truth be told, mobile applications are increasingly becoming a qualifier to maintain the status quo amongst the competition (as more and more users continue to access information via their phones as opposed to desktop). In addition to that, mobile applications are an added way to express, connect, and engage with your customer in a non-abrasive form to get your core message across.
Don't think your customers are on their phones that much? Consider this: Sidney, Australia is experimenting with installing pedestrian lights into the pavement to reduce the number of accidents caused by people walking into cars while being distracted by their phones. This highlights that there is a systematic shift in how much time we spend on our mobile phones and how we have embraced them in our day to day life…so if you're creating applications solely for desktop use, you'll find yourself behind the curve.
The benefits of a native app
You should be asking what your requirements are.
For example: Who is your targeted demographic? Native apps are a great customer retention and service tool which can put you ahead of your competition and offer a differentiated customer experience. Will the target audience repeatedly use your app if the UX is engaging or is your service something they will only use once a year?
If customer satisfaction is the goal, native apps are often the best way to go. They have the advantage in terms of relative ease of use, instant availability, and higher exposure. Also, the app can be further optimized to make use of the distinct features available on the mobile devices. Push notifications, integrations with contact lists, and device root function are some of the examples of the features that would result in providing a rich user experience.
A native app in conjunction with an experiential marketing solution is also integral to the success of the brand and the app itself. Mobile users are spending an incredible amount of time accessing different apps on their phone. Therefore, the onus is on the app developer to create a user-friendly interface and interactive app design which hooks the customers into coming back to the app often. The chart below further highlights the feature differentiation between native and a web apps: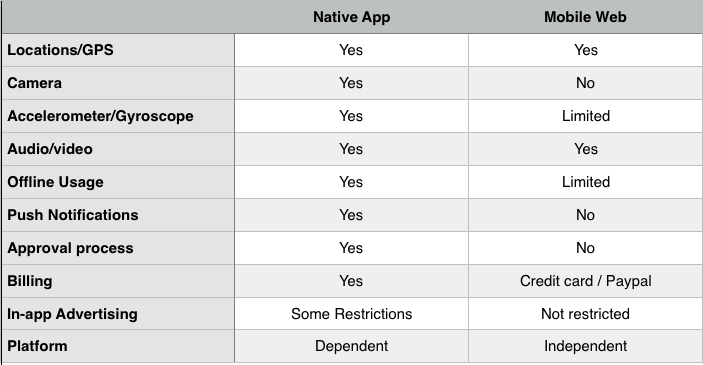 The benefits of a mobile web app
Mobile web apps, on the other hand, will again largely depend on the customer requirements. These apps could serve as a training ground for the company to gauge customers' interest in their product or idea. Considering the migration from desktop computers to handheld devices, It is critical to put out a mobile app or a web app which is responsive and optimized for a mobile platform.
The biggest advantage of the multi-platform mobile web app is that it can run on any device regardless of the operating system. The web app can target much higher number of the users compared to a native app on a specific platform. The development time of building mobile web apps is considerably less than creating a native app for the different platforms which definitely does translate into some cost savings.
Keep in mind that although a mobile web app is available on every platform, controlling user experience across different platforms is a whole different ball game and it leaves a lot to be desired.
With the introduction of the Android instant app functionality from Google, indexing mobile app information into different search engines will open up a plethora of app marketing and exposure options. One highly discussed benefit is the ability to access apps without ever needing to download the applications. SEO of apps is now a very real consideration.
There is an unbelievable amount of innovation happening in this space, with new techniques becoming standardized at an incredible pace. New and improved technology are constantly redefining how we can address specific business problems.
In the end, the decision will hinge on what different set of features your mobile app or native app will provide and the kind of customer interaction/engagement that you envision.
Have more questions on mobile vs native, or having trouble nailing down which option would be best for your project? Feel free to drop us a line to discuss which would provide better ROI for your company/project.
Recent Posts
Ready to develop your project beyond expectations?
Want to Build a Great Digital Product?